Who We Are
About Us
Your Trainer

Hello my name is Karen. I am a professional member of the Association of Pet Dog Trainers and I am the first qualified Fitpaws Master Trainer and Certified Canine Fitness Trainer in Ireland. I use only positive force free, reward based training methods and I am passionate about teaching you the skills for a fitter, happier dog. Read all about Teach My Dog and my teaching philosophy below.
What We Do
Philosophy
Philosophy
I have been involved with dogs since a very young age. I have always been very interested in how dogs learn and live with humans. Over the years I have trained and worked with dogs in many different aspects of dog training. I have been fortunate to train and compete in agility with my two dogs and I was fortunate enough to get the experience of competing at two Agility World Championships and to compete at the International Agility Festival. I have trained with The Search and Rescue Dog Association of Ireland which involved motivating and training my dog in challenging weather conditions and terrains to successfully do his job.
Over the years, I am watched many trends and fads in dog training come and go. The key to successful dog training, is to build a good relationship with your dog through meeting the dogs physical and mental needs through stimulation such as play and learning in a fun environment and to understand how you and your lifestyle influences the dogs learning and behaviour.
In order to successfully train people how to train their dogs, I have completed my Fetac Level 6 Train the Trainer course as similar to dogs, people also learn in different ways and its important that the training I provide is tailored to both the dog and handlers requirements to achieve success.  I am also qualified in Reiki Level 2 and I am a Horse Sport Ireland Level 1 coach.
Ongoing training and professional development is very important to me and I have attended numerous seminars and workshops on dog training across all aspects of dog training and care to include:
Fitpaws Live Lab – Canine Fitness and Conditioning – Colorado USA
Canine Fitness  – University of Tennessee
Bobby Lyons – Specialized Equipment Training – UK
The School of Canine Science – Force Free Trick Training – UK
Dean Nicholls – Teach your Dog – UK
Ken Ramirez – Core Training Principles – Ireland
Conor Brady – Your Natural Dog Seminar – Ireland
Emma Parsons – Click to Calm  – Ireland
Susan Garrett – UK
Jenny Damm – Ireland
Workshops are available to Dog clubs throughout Ireland.
Fitpaws Fitness Training
Due to lifestyle demands, how we keep and exercise dogs has become more challenging. Time and space is limited yet we still want to give our dogs the best we can. As the first qualified Fitpaws Master Trainer and Certified Canine Fitness Trainer in Ireland I offer classes and workshops in canine strength and conditioning. With Fitpaws learn how to :
Increase trunk and core strength
Strengthen the bond with your dog through interactive positive training
Improved balance and awareness of the body's position in space
Improved reaction and control
Increased range of motion in joints and elongation of the muscles
The benefits of working with your dog in this way can be applied to both pet dogs and working dogs.
Pet Dogs
During wet winter months it can be a challenge to ensure adequate exercise for your dog. Too little exercise leads your dog to become bored, destructive and even depressed.  Is your dog a couch potato during the week and a weekend canine warrior? Couch potato dogs are often times over worked on the weekends and are more susceptible to injuries from having a weak core, being overweight and overworked. It is very important that these dogs have a conditioning program to prevent injuries. Just 5-10 minute sessions 3-4 times with a canine conditioning programme will help improve core strength and muscle tone for injury prevention and increased weekend performance.
Working Dogs
Working dogs have many of the same risks associated with highly competitive canine athletes and can reduce their risks of injuries by having a consistent physical training program. Working dogs will benefit from condition training from puppyhood to their working career, retirement, and beyond. Cross-training will help working dogs develop core strength, body awareness, and self-confidence.
Behavioural Training
Karen has been providing training solutions to many dogs throughout the Dublin, Louth, Meath, and Kildare region. Upon request Karen can travel further afield to provide advice on how best to train your dog in all aspects of behaviour to include.
Usually by the time someone realises they need a trainer, the issue can be quite complex. Often part of the issue is due to the lack of the persons knowledge as to how they need to train and interact with their dog. To achieve success Karen can train your dog for you in your home environment so that the dog learns quickly and effectively how it needs to behave. Once the dog is trained in the behaviour Karen will then transfer those training skills to the owner.
Loose leash walking
General good manners
Recall
Reactive dogs
All training behaviour is positive reward based training.
Tricks
Can your dog:
Tidy their toys away
Open the Door
Close the cupboard
Fetch the phone
Wipe their paws
Learn these and many more tricks using force free positive training methods to have fun with your dog.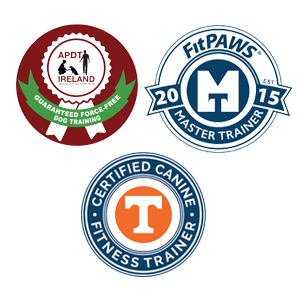 Follow Our Instagram
@OnLeash